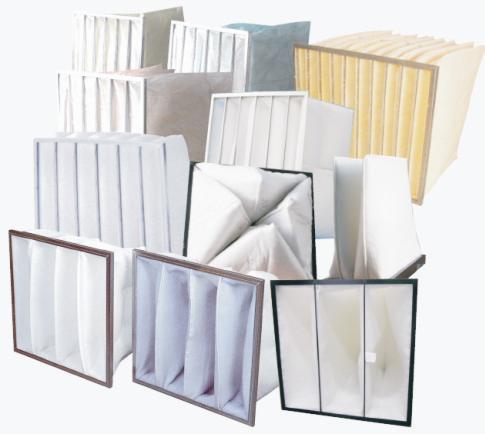 Due to the pocket formation, pocket filters create wide open maximum air entrance into each pocket with minimum resistance. Total pocket inflation results in complete use of media area and offer high dust handling and long service life.
Fleco offer glass fiber and synthetic media with efficiency M5(Merv9), M6 (Merv 11), F7 (Merv13) ,F8 (Merv14) and F9 (MERV15) in galvanized steel, extruded aluminum or plastic frame.
All pocket filters with their rugged construction and fail safe pocket attachment to guarantee the performance.
With so many styles of medium and high-efficiency, extended-surface, pocket filters available, Fleco offers the industry's best value for efficiency, high dust holding capacity, long service life and low resistance to air flow.

Unusually large product selection:
Select from a wide variety of sizes, pocket counts and pocket lengths in each efficiency.

Rugged construction:
The header and pocket retainers are made of galvanized steel for high strength, durability and dust resistance.
The roll formed header is a single piece U-channel with multiple bends for extra rigidity. A built-in stop inside the header channel prevents racking.

Fail safe pocket attachment:
Adjustment pocket retainers are fastened together with a high strength mechanical staking process that secures the pockets and prevents separation at very high resistance or under turbulent conditions. A rugged spun bonded synthetic scrim backing on the air leaving side of the pockets protects the media from tearing or erosion.

Total pocket inflation:
Formation of the pockets (by span stitching or sonic welding) creates a wide open entrance into each pocket. Uniformly shaped channels permit maximum air flow with minimum resistance. Total pocket inflation results in complete use of the media, high dust holding capacity and long service life .

Application:
Pocket filters have widespread application in central air conditioning ventilation systems, pharmaceuticals, hospitals, electronics, food processing, the automobile industry, hotels and office building, etc. They can also be used for secondary filtration.
There are several types of Pocket filters:
Synthetic pocket filter
Glass fiber pocket filter
Polyester pocket filter
For detailed information, please see individual brochure.

Pocket Bag Filters.pdf

Synthetic Pocket Filter.pdf

Glass Fiber Pocket Filter.pdf

Polyester Pocket Filter.pdf